Not A Single Inch We'll Give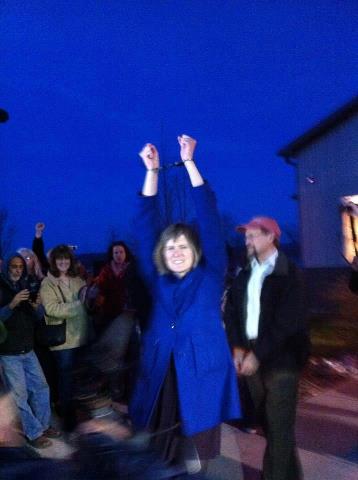 Jail time doesn't daunt spirits of Inergy Protestors


We will fight at the pipelines, We will fight at the rigs,
We will fight at the compressors, Not a single inch we'll give.
We will fight in Watkins Glen, We will fight in Minisink,
We will fight in Horseheads, Not a single inch we'll give
Live Updates from March 18th
10:00: Protesters have linked arms and deployed a banner reading "Our Future is Unfractured, We Are Greater Than Dirty Inergy", blockading the entrance of the Inergy facility in Watkins Glen. Sandra Steingraber PhD., biologist, author and Trumansburg, NY resident, is risking arrest alongside residents of Seneca Lake and local college students to oppose Kansas City, MO based Inergy, LP's natural gas and liquid petroleum gas storage facility, which would lock in natural gas development in the Marcellus Shale region. The blockade joins a growing national movement to call attention to environmental injustices caused by unconventional and extreme fossil fuel extraction techniques, including Inergy's hotly debated salt cavern gas storage facility proposed for Reading, NY.
10:21: Sheriff has just arrived on scene as eleven blockaders and their supporters sing: "We will fight on the pipelines, we will fight on the rigs, we will fight on the compressors, not a single inch we'll give."
10:30: Sheriff deputy: "I'm asking you to move, because there will be other people coming up here, and they might not be as nice to you as me."
10:35: One blockader, on the truck attempting to enter the facility: "I'm glad the truck's here, so we're risking arrest for actually doing something."
10:38: Police have asked blockaders to move, giving a ten minute warning. Blockade remains strong with another chorus of, "Not a single inch we'll give!"
10:41: Five minute warning.
10:45: Truck attempting to enter the facility has turned away and left, truck attempting to exit has not moved.
10:48: Police confiscate banner.
10:50: Five arrests, four blockaders and one legal observer. Legal observers are traditionally respected in their role as non-participants, but one has been arrested for accidentally having one foot on Inergy property.
10:54: Second round of arrests, four blockaders handcuffed. State trooper arrives on scene, joining four other police vehicles.
10:56: Truck leaves facility, passing three remaining blockaders.
11:04: Mother, biologist and author Sandra Steingraber, Green Umbrella organizer KC Alvey, and local organizer Jack Ossont are last of blockaders to face arrest. The facility was successfully blockaded for one hour. Jail support is tracking arrestees and our medics are making sure they have everything they need.
12:46: All arrestees released, cited with trespassing violations.
Protect the Finger Lakes
Watkins Glen residents have been working hard to ensure the DEC gives adequate attention to legitimate scientific and socioeconomic concerns about the Inergy natural gas facility. The DEC's current draft analysis of the environmental impacts is completely inadequate, ignoring the local health impacts from air pollution. The DEC also neglects to mention the detrimental impact on the thriving wineries and tourist economy in the area. Residents are committed to stand up for themselves if regulators won't. We will resist the fracking infrastructure that the industry is trying to sneak through the back door. This fight is key to deciding New York's energy future. Are we going to be won over by out-of-state energy companies? Or are we going to protect our health, our communities, and our economy by standing up to Inergy?